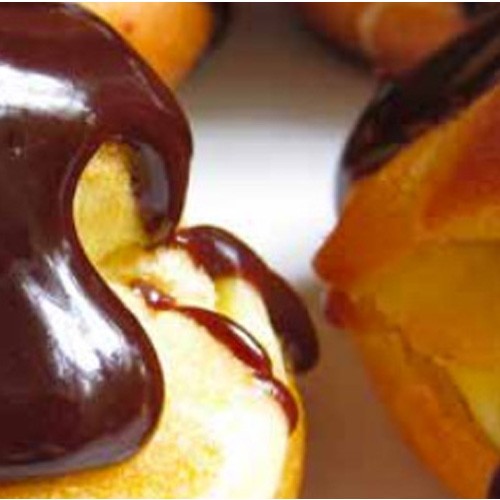 Choux Pastry Recipe
Ingredients
150 ml water
50g butter
60g plain flour
2 eggs
350ml whipping cream (med sized carton)
200g chocolate (Bournville is fine)
For chocolate sauce sauce:
1 small can evaporated milk
Method
Measure/weigh all ingredients. Sieve flour onto greaseproof paper or a plate
Switch on oven – gas mark 6 or 200 C
Bring the water and butter to a rolling boil in a medium saucepan remove from heat.
Quickly add the flour to the boiling liquid. Beat vigorously until smooth and cook for half a minute on low heat. The mixture should have come together and should have left the sides of the pan clean and be very thick and stiff.
Allow the dough to cool slightly – this can be accelerated by placing the pan over cold water.
Meanwhile beat the eggs together in a small bowl or jug.
Add a little of the egg (1-2 tablespoons) to the pastry and beat very well, either with a wooden spoon or an electric mixer. Continue adding the egg in small amounts and beating the mixture wel. The choux pastry should remain fairly stiff throughout. It should never get runny so all the egg may not be needed.
Either pipe the mixture in finger lengths (for eclairs) or pile the mixture in heaps (for choux buns) onto a greased baking tray. Alternatively you could make a choux ring using all the mixture.
Bake at gas mark 6 or 200 C for 10 mins. Turn oven down to 170 C and cook for a further 20 minutes. 5 minutes before the end of cooking remove from the oven, pierce to release steam and place back in the oven for 5 mins to dry out completely.
Remove from the oven, split and leave to cool. Fill as desired.
To make chocolate sauce: Melt the chocolate in the evaporated milk over a double boiler.